Most of us have one or two belts, max – often in black and brown. But most guys don't realize is that what we perceive as a purely functional, mundane item can make or break an outfit.
The right belt visually pulls your outfit together. It's a classic men's accessory – the finishing touch; a sign of a well-dressed man. The wrong belt draws unwanted attention to your belly and makes you feel uncomfortable and self-conscious.
In this article, I'm going to show you how to find the perfect belt (or belts!). I'll break out the anatomy of the belt, and show you what belt materials work, and why. Gents – this is my ultimate men's belt guide.
Today we're covering:
Men's Belt Guide: What Is A Belt?
A belt is a cinching system that goes around the waist using tension to hold up a person's pants. A piece of rope can be a belt in an emergency!
It's also a method of carrying things. Think about Batman and his utility belt, or a gentleman who decides to concealed carry.
But most belts are purely decorative.
The vast majority of belts have two parts: the buckle and the strap. (The piece of string would just be a strap, but that's outside the scope of this website.)
Many belts also have a keeper loop and/or an end tip (the end tip is usually metal or leather on cloth belts). The end tip protects the end of the belt and can make it easier to buckle. After it's buckled, the keeper loop stops the free end flapping around.
In some belts, the strap and buckle are permanently joined together; in others, they can be taken apart and switched out. The part of the buckle that joins it to the strap is called the chape.
Today's article is sponsored by Anson Belt & Buckle, makers of the micro-adjustable hole-less belt with an adjustable belt buckle.
Instead of 5 holes, 1" apart like most traditional belts, Anson Belt offers 30+ options only a 1/4" apart, allowing you to always achieve the perfect fit.
Click here to head over to Anson Belt and get a limited-time special offer – get one additional strap or buckle with your box set for free. That gives you 3 straps and 3 buckles for under $100… that's 9 possible belt combos for under $100!
Men's Belt Guide: Belt Buckle Types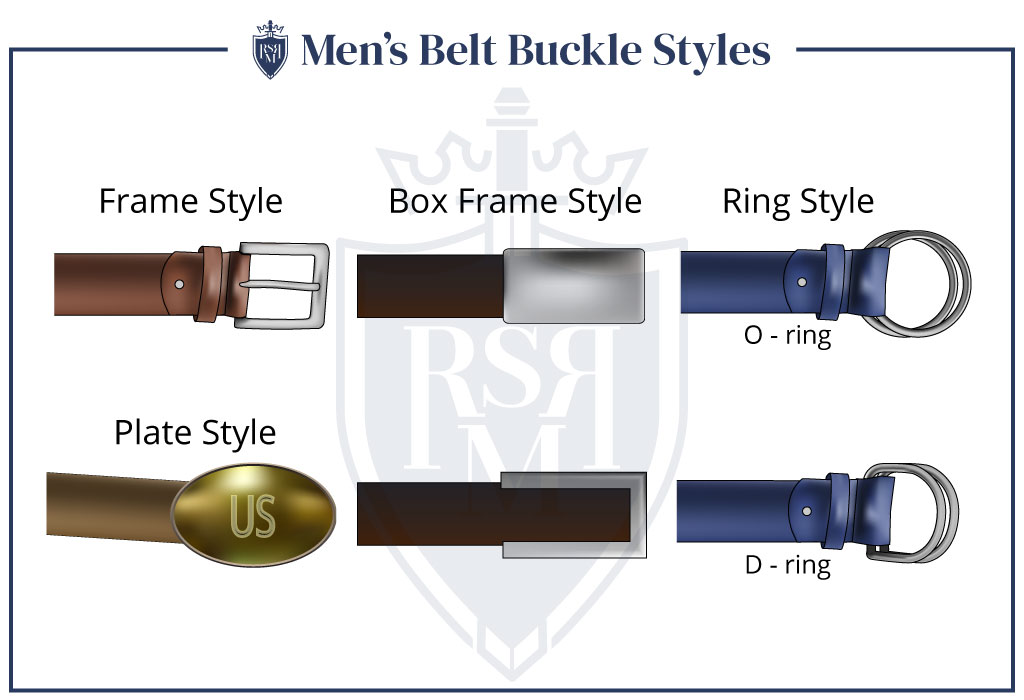 #1 Frame-style buckle
Seen on nearly all formal belts, and also on casual belts
Strap goes through frame
Prong goes through holes in the strap to fasten the belt
#2 Plate-style buckle
Usually detachable – paired with snap belts (straps without buckles)
Plate is usually decorated – e.g. in cowboy and biker belts
Hook goes through the front of the strap
Throw (distance from chape to hook) adds to the length of your belt
#3 Box-frame buckle
Box is hollow, metal and open-ended
Post presses the strap against the inside of the box
No need for holes in the strap
#4 Box-out buckle
Mostly found in women's fashion
A simple leather or synthetic frame – the belt threads through
Not very durable – more for decoration
#5 Micro-adjustable buckle
Uses a ratchet-style track system that requires a special type of strap
A folding piece of metal presses the 'teeth' of the track system into the strap
No need for belt holes – allows minute adjustments
#6 O-ring/D-ring buckle
One or two rings form the buckle
Belt is fastened by threading through them
Casual, used with braided, webbing and canvas belts
#7 Snap buckle
'Male' and 'female' ends snap together like a seat belt
Very casual and functional, often found in outdoor pursuits gear
Not to be confused with snap belts
Men's Belt Guide: Belt Strap Materials
#1 Leather
Cow And Calf
Cowhide is the most common leather used for belts, and comes in a few variations:
Full grain leather is the best looking and most hardwearing, while calfskin is the softest and most supple. The highest quality formal belts will be full grain calfskin.
Braided leather is used with a frame-style buckle to make very adjustable belts: you can put the prong in any hole in the braid. Multicolored braided leather is a casual summer look, while monochrome braided leather is too casual for a suit but good with a sports jacket.
Tooled leather is decorated by "tooling", a stamping process that leaves patterns on the leather, which are often then stained to make them stand out. Tooled belts work well with simple outfits, such as a pair of jeans and a basic button-down shirt.
Suede is also often used for casual belts. It's less durable than full-grain leather, but usually has a full-grain leather backing for extra strength.
Exotic Leathers
Exotic leathers are all technically casual, but can work as formal if kept subtle with a dark color like black.
Ostrich belts are a bold look, dotted with pockmarks from the feathers – imagine the biggest, most stylish plucked chicken you've ever seen. They tend to fetch a high price.
Lizard, crocodile and alligator belts are even more upscale with very recognizable patterns and textures.
#2 Other Materials
Leather-backed ribbon is a casual material that allows you to stand out with bright colors and bold motifs, and is usually paired with a frame buckle. Leatherback ribbon belts go perfectly with sailing, golf, and boat shoes.
Canvas as a belt material has a military origin. It's used for functional rather than decorative belts, and usually goes with a box buckle.
Webbing is another functional material, good for outdoor pursuits. It can be found in fun colors and patterns, and most often comes with a D ring buckle.
Rope belts are mostly a women's fashion, but worn by men in nautical circles. Often fastened with a knot and loop rather than a buckle, they're a bit preppy but durable and easy to clean, and can take a soaking better than leather.
Vinyl is cheap, often colorful, bold and alternative. Vinyl belts are a young man's style and can look tacky on older men.
Faux leather is made with polyurethane on a fabric backing. It's durable and low-maintenance, and the best faux leathers look realistic, although they don't develop the same patina as real leather. On the other hand, cheap fake leather looks cheap and fake.
Men's Belt Guide: Formal Or Casual Belt?
Just as with shoes, there are dress belts and men's casual belts, although there's overlap between the two styles. Dress belts are for wearing with suits and business attire. Casual belts can be worn with anything down to jeans and shorts.
What belt to wear for formal occasions?
Leather is the only suitable material for dress belts (or a really good imitation leather if you're vegetarian.)
Black and brown are the most formal colors for leather; some other colors you might see towards the smart-casual end of formal belts are oxblood, tan, navy, gray, and white for summer.
When you're wearing a formal belt, be careful to match belt and shoe leathers plus the metal in an outfit. Your belt should be not only the same color but also the same level of shine as your shoes and other leather accessories. The metal buckle should be the same color as your other metal accessories.
What belt to wear for casual events?
For casual occasions, you should still match your metals but you've got more leeway on the leathers — brown with tan or tan with white is fine.
What kind of belt should you wear with jeans? In a pinch, you can also wear your formal belt with jeans. It doesn't look quite right, but it's where most men's belt collections start.
Why doesn't it look right? For a start, formal belt leather is usually shiny and sleek, while leather in casual belts is rugged and matte.
Secondly, casual leather work belts are broader, tougher, and stiffer than leather dress belts, making them great for concealed carry. They're usually made to take interchangeable buckles – anything from frame-style to a cowboy buckle.
A bigger belt buckle is less formal. Dress belts usually have a small frame-style buckle. Casual belts can have almost any buckle as long as it goes with the style of the outfit (for instance, you might want to wear cowboy boots with that cowboy buckle.)
Men's Belt Guide: Accent Or Statement Belt?
An accent piece is subtle, low-key, and complements the rest of your outfit. It's usually in coordinating or neutral colors.
A statement piece demands attention and contrasts with the rest of your outfit. It works best when the outfit isn't too filled with colors and patterns.
Casual belts can be an accent or statement accessory. Dress belts are pretty much always accents.
Don't wear an eyecatching statement belt if you're not confident about drawing attention to your waist.
Men's Belt Guide: How To Buy A Quality Belt
Don't succumb to the lure of cheap leather — it cracks easily and makes you look shabby.
Indicators of good quality in belts include:
Soft supple leather that doesn't crack – the best (and most expensive) belts are made from calfskin.
Leather that can't be marked – if you can't make a visible scratch with your fingernail it means the leather is soft and fresh.
Good stitching – small, tight stitches with no loose ends.
Interchangeable snap buckles.
Brand names, in my opinion, are NOT worth paying more for when it comes to belts, because nobody's likely to notice where your belt came from! If you've got a little extra to spend, invest in quality instead.
Men's Belt Guide: Belt Sizing Guide For Men
How to size a belt for a man
Ok so you've decided what style you want and you've found a quality belt in a store. Now you just need to find the right size. So where to start?
Your belt size should be 1-2 inches longer than the size of your pants waist. So if you take a 40″ in pants, you want a 41″ or 42″ inch belt.
Alternatively, you can work out the size of your new belt from your old belt. Measure from where you always buckle it to the opposite end of the strap, and get the closest size to that.
When buying a plate buckle, remember the throw (distance from chape to hook) adds to the length of your belt.
If you love a belt that's the wrong size (or your size has changed since you bought the belt) DO NOT be tempted to gouge a hole in it with your pocket knife or kitchen scissors. It will be obvious, and the belt will end up breaking. Take it to your local cobbler to get a hole made properly.
Dress belts should only have a short tail end. You just want a few inches of leather to the left of the buckle when it's fastened, long enough to tuck through the first belt loop or the loop on the belt itself if it has one.
What is the best width for a men's belt?
As a general rule, a wider belt will be more casual.
Dress belts should ideally be 1.25-1.5 inches in width. Look for a dress belt on the end of this scale if you have a lean build (with a waist under 34″) or are wearing tapered pants. Take care not to go beneath 1.25 inches or you're hitting female territory.
By contrast, casual belts can be wider and are usually about 1.5-2 inches wide. A wider belt will be perfect for jeans. It will also pair best with a statement buckle.
When Should You NOT Wear A Belt
The answer is you don't need a belt if your pants don't have belt loops.
In general, you should wear a belt with all pants (including jeans) that have belt loops. Leaving it off can look sloppy. But, if your outfit is looking too busy or you don't have a belt that matches it, you might be better off going beltless — provided your pants fit well enough!
Are suspenders appropriate? Yes, as a stylish and fun alternative to belts. Although it's a little more effort, when it comes to button suspenders vs clip options I recommend the former. Clip-on suspenders like the gentleman above is wearing can damage your waistband over time.
Suspenders are a great way of dressing well for larger men — they'll hold up your pants more effectively and reduce bulk at the waist. They also make a short guy look taller (or at least, they don't make you look shorter by breaking the line of your body the way belts do.)
Men's Belt Guide: My 3 Top Go-To Belts For Men
Like most of you, I don't have unlimited funds and closet space. If a gentleman could only have three belts, this is where I would recommend he start his collection:
Dress belt – for business and evening wear
1-1.5 inch strap
Only about 0.1 inch thick
Black or dark brown leather
Usually shiny
Undecorated – maybe a little broguing or hand burnishing
Small, plain, polished buckle – normally frame style
Match leathers, match metals
Casual belt – for jeans
1.5 inch strap or wider
Can be thicker than a dress belt
Tan or natural brown leather
Matte, rugged and can be braided, textured or decorated
Can have a larger and/or more decorative buckle – plate, box or frame
Doesn't have to match leathers exactly (e.g. brown with tan, tan with white)
Webbed fabric belt – for summer casual
1.5 inch strap or wider
Choose a strap color that goes with your wardrobe
Strap can be patterned
Usually has a double D-ring buckle
Wear with chinos or shorts
If you can only afford one belt, start by purchasing the dress belt because looking put together is never more important than when you're at work. Then progress to the casual leather and fabric belts you can wear after work and on the weekends.
Click here to discover our FULL ultimate men's belt guide infographic.
Click below to watch the video – 13 Fashion Trends We Hope Die Forever: