The perfect pair of jeans is the holy grail of a man's casual wardrobe, they are great in almost any situation short of a black-tie event. So if jeans are so great, why do so many men not know how to buy jeans that fit properly?
Oftentimes, men are buying jeans for the wrong body type. Larger men buy jeans that make them look larger, and skinny men find themselves in jeans that swallow them. In this article, we're going to teach you how to buy the right jeans for you.
You're going to discover:
How To Buy Jeans That Fit Properly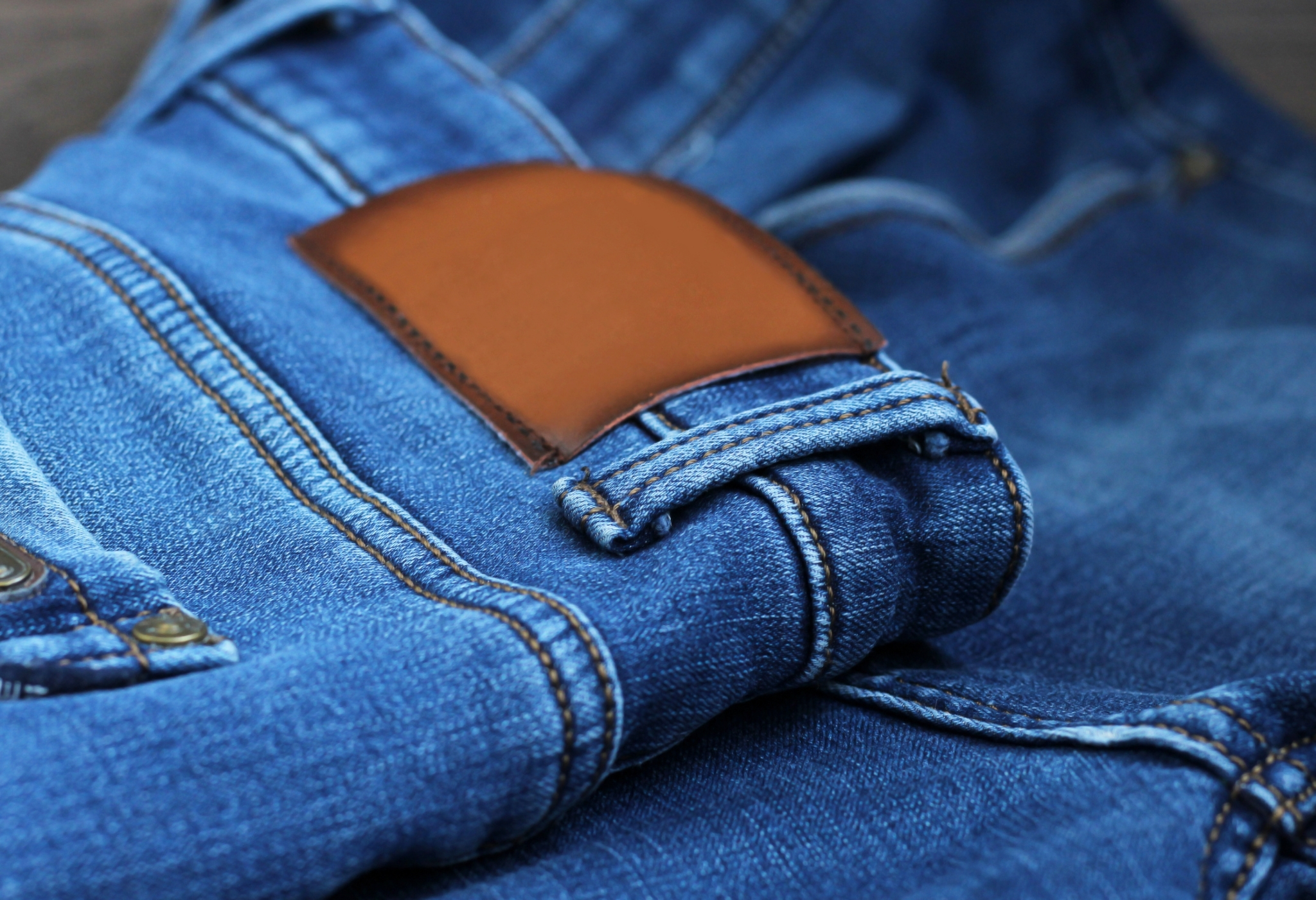 3 reasons why it's so difficult to learn how to buy jeans that fit properly:
A lack of understanding of what jeans look good on their body
A lack of suitable styles available when they make the selection
Confusion about the style details such as weight, wash, and detailing.
In this article – we help you solve these issues to find your perfect pair of jeans!
#1. 5 Common Denim Fits Available For Men
Jeans have labels like skinny, slim, or straight – these are an indication of the body type the jeans fit best.
Skinny: The latest addition to the jeans family, this style is a tighter fit with a tapered leg opening. Generally low to mid-rise with a zipper fly. Skinny from hip to hem.
Slim: Not too tight, not too loose. Generally mid-rise with a zip fly. Straight through the hip, slim through the thigh with a narrower leg opening.
Regular: Straight leg jeans, generally with a mid-rise. The trouser leg falls straight from the knee to hem, with a reasonably large leg opening, straight through hip and thigh.
Relaxed: A loose fit from the waist to the leg opening, relaxed cut denim is not going to hug any part of your body.
Loose: A baggy fit. The roomiest fit of jeans; provides plenty of space in the thighs, legs, and butt for men who need it.
Today's article is sponsored by Anson Belt & Buckle, makers of the micro-adjustable hole-less belt with an adjustable belt buckle.
Instead of 5 holes, 1" apart like most traditional belts, Anson Belt offers 30+ options only a 1/4" apart, allowing you to always achieve the perfect fit.
Click here to head over to Anson Belt and get a limited-time special offer – get a 6 piece Box Set for the price of a 5 piece. That's 9 belt combos for under $100.
#2. How To Buy Jeans That Fit Properly – 5 Common Denim Rises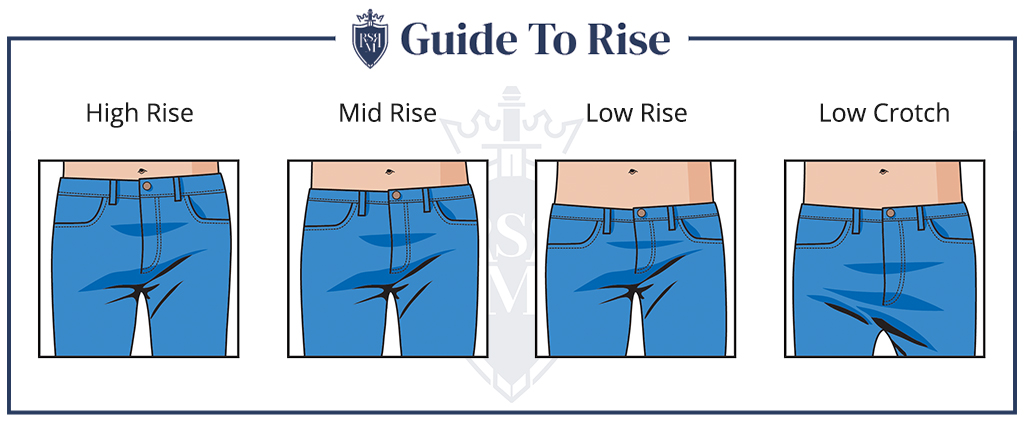 The rise is the measurement from the crotch to the top of the waistband. The basic rises in men's jeans are – high-rise, mid-rise, low-rise, and low crotch.
High-rise: These jeans are great for bigger guys. It's best to avoid tucking in your shirt with high-rise jeans. You wear these above the belly button.
Medium or Mid-Rise: These are great for men who prefer to tuck their shirts into their pants. The waistband skims the belly button.
Low-Rise: These jeans offer a casual fit and appear a more relaxed appearance. You wear these below the belly button.
Low-Crotch: These are worn low on the waist. These are drop-crotch pants, a style that is saggy at the hips, seat, and rear.
The sizing on a pair of jeans refers to two measurements.
When learning how to buy jeans that fit properly, sizing is the first and often the only aspect men focus on.
Sizing example – 32×34
32 refers to the waist size.
34 refers to the inseam length (the measurement from crotch to floor on the inside leg of the pants).
#3. How To Buy Jeans That Fit Properly For The 5 Body Types
To find the most flattering style of jeans requires trial and error, but the following tips will help you find what fits best on your body type.
#4. The Perfect Jeans For Thin Men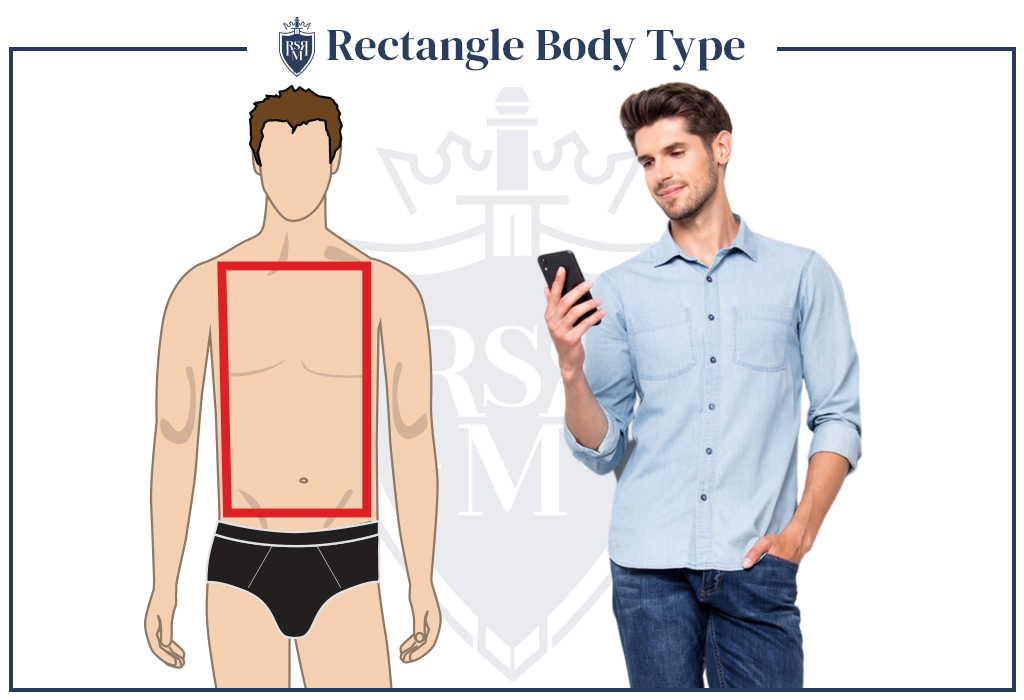 Sometimes referred to as ectomorphic, this body has a light build and a flat chest, small shoulders, and lean muscles. These are men who are slender from top to bottom.
This body type has a fast metabolism and finds it difficult to gain weight.
What jeans look best on thin men?
Straight-leg jeans with a low rise – they flatter your slender build and are roomy, without drawing attention to your undefined legs.
What styles of jeans thin men should avoid?
Wide-leg and baggy jeans – they'll look too loose on you.
Skinny jeans – they'll make you look even slimmer. They tend to be too roomy – creating a sloppy appearance and draw attention to your slender legs.
High-rise jeans – they'll make your ass look flat.
#5. The Perfect Jeans For Athletic Men
The athletic man has a slim waist with muscular legs and buttocks. Justify the hard work in the gym by wearing jeans that accentuate your toned body.
What jeans should athletic men wear?
Slim fit jeans
Straight leg jeans
Boot cut jeans
Low rise styles
Pockets on the jeans should be small and wider set – to show off your toned butt.
What jeans should athletic men avoid?
Baggy jeans – they hide the form of your body
Regular fits with wide legs – they create an imbalance by making your legs appear larger in comparison to your upper body
#6. The Perfect Jeans For Muscular Men
Stocky men who frequent the squat rack at the gym have much bigger legs. A pair of straight-leg jeans end up looking like skinny jeans on them.
What styles of jeans look best on muscular men?
Regular fit with a wider leg – this style accentuates your toned body
Pockets should be large, close together, and deep – it will make your behind look smaller
What jeans should muscular men avoid?
Boot cut jeans – the flare will make you look heavier
Tight, skinny jeans – they leave nothing to the imagination and make your muscles appear bulkier
#7. The Perfect Jeans For Men With Wide Hips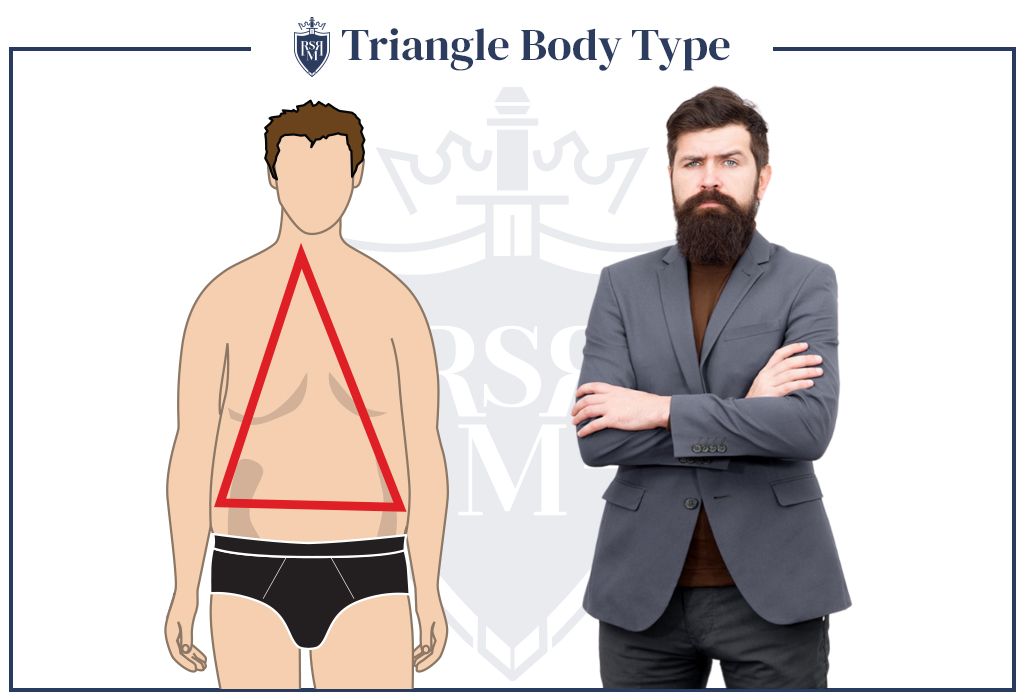 Men with large hips require an equal leg width from hip to hem. The typical soccer player's body – thick and wide legs with a wider hip than the waist. Whereas having them sit a bit higher creates a more even, streamlined look from the belly button down.
What jeans should you wear for wide hips?
Relaxed-fit jeans one size up – they give you a comfortable fit, so your jeans don't stretch across your groin
Straight-leg jeans with a high rise – they maintain an equal width from the hips to the hem
Loose jeans with a wide leg and seat – a comfortable option for a casual appearance
What jeans should you avoid if you have wide hips?
Skinny or tapered jeans – create a feminine silhouette
Low-rise jeans that sit on the hip – they accentuate the wide hips
#8. The Perfect Jeans For Men With A Large Waist
The plus-size man has a wide midsection as well as large thighs, buttocks, and calves.
High-rise jeans flatten the midsection and tuck in the buttocks and thighs.
What jeans look best with a large waist?
Loose-fitting jeans are best – straight cut with a wide leg.
Relaxed jeans
What jeans should you avoid if you have a large waist?
Avoid skinny and slim-fit jeans. A slim leg silhouette creates an exaggerated imbalance in your appearance. Your upper body will loom large over the tight-fitting pants.
Flared or boot cut jeans they will make your legs look wider.
Click here to view the full infographic – The Best Jeans For Your Body Type
#9. Selvedge & Raw Denim: What's The Difference?
Selvedge or selvage refers to the clean and finished edge of denim fabric.
The self-finished edges prevent the fabric from unraveling. The narrow fabric, woven on traditional shuttle looms, results in premium quality jeans – the quality determines the steep cost of selvedge jeans.
Raw denim refers to denim that is unprocessed, untreated, and not pre-washed.
Sometimes called dry denim, raw jeans are indigo denim made straight off the looms.
With wear and tear, raw jeans develop a unique look.
#10. Other Factors To Consider While Learning How To Buy Jeans That Fit Properly
The weight of the denim material affects breathability and how the jeans drape on your body. Stick to a material in the 8-20 ounces range.
Acid wash, stone wash, and vintage wash are common treatments to produce a pattern and hue on denim pants. Jeans in a classic wash are a staple – these are not substantially faded and are a wardrobe staple for men who wear jeans regularly.
Dark blue is the most versatile color for jeans. You can dress dark denim up or down based on the occasion and compliment almost any outfit in your wardrobe.
Denim pants tend to stretch about a full size during the first 10-20 wears. Always size down when buying a pair of jeans.
Don't be discouraged if your body type won't allow you to fit into the latest trend in jeans. Stick with a classic cut that complements you.
But what about your underwear? Click here to learn more about body types and find the perfect underwear for you.
Watch the video below – How To Buy The PERFECT Fitting Jeans (For Age & Body Type)