We all wear underwear. If you're like most men, you're probably buying the same underwear you've bought for the last 20 years. We're creatures of habit!
But have you ever considered what is best men's underwear for your body type? In this article, we explain what underwear you need – based on your body type.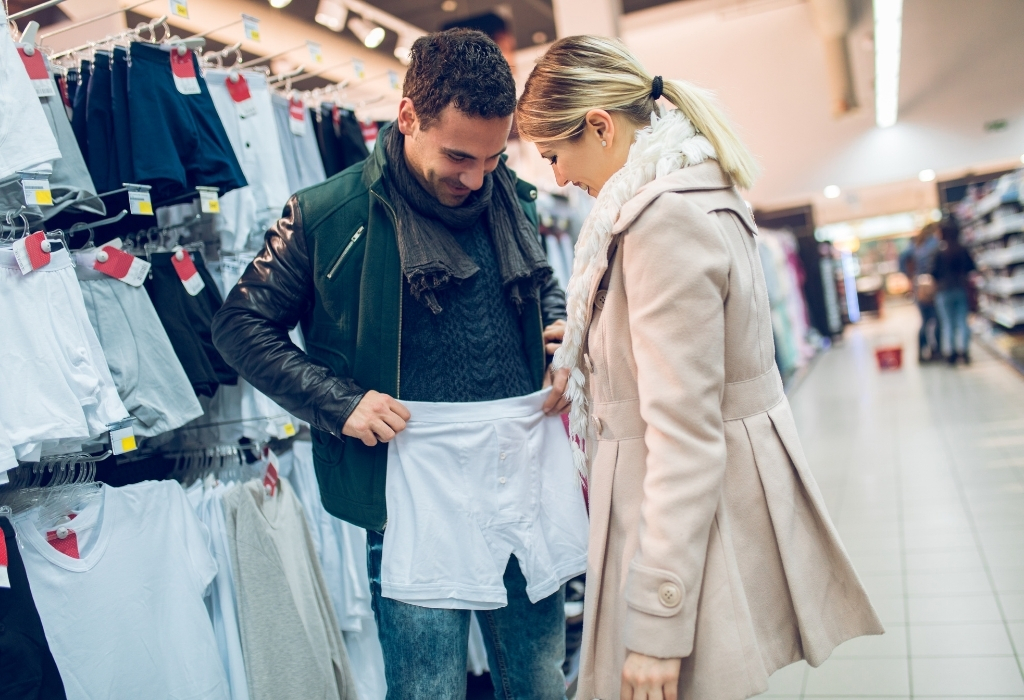 In this article, you'll find:
The History of Men's Underwear
Technically, underwear has been around since prehistoric times. The loincloth is the earliest form of men's underwear that we know.
Loincloths are made out of a single piece of material to protect the wearer from the elements.
Over time, loincloths evolved into an under layer, making it into "underwear." Underwear became popular as it protected the wearer more, and they were easier to clean and replace than regular trousers.
It wasn't until the 1930s that modern men's underwear came to be. In 1935, Coopers Inc. sold the world's first briefs in Chicago. These had no leg sections and has a "y-shaped" overlapping fly.
The company named the style "Jockey." This later became Coppers Inc.'s name is the company we know of today as Jockey.
This style of underwear became very popular as Jockey sold them promising "masculine support." In 1938, the underwear was selling at a rate of 3,000 pairs a week in the UK.
In the 1970s, men's underwear was advertised as a "fashion" item; comfort and durability went out the window in favor of sex appeal. High-end brands like Calvin Klein, Armani & Hugo Boss began selling underwear at a premium, which continues today.
Why Your Choice Of Men's Underwear Matters
When we think of underwear, we think of clothes underneath the rest of our clothing, hidden from public view. So is your choice of men's underwear important?
Yes.
Underwear serves many purposes, whether you're sitting at your office desk, speed walking in the subway station, or just lazing around at home.
Health-wise it's better to buy quality men's underwear instead of cheap ones that wouldn't last beyond a couple of washes. Quality underwear:
Absorbs body fluids or sweat coming from the crotch
Keeps your trousers clean from the inside
Provides support for your genitals, keeping them comfortable throughout the day
Reduces friction between the genitals and your clothing (the best brands of underwear can prevent chafing in the crotch area thanks to the fabric)
Regulates temperature in the lower body
But that's not the only decision you face. There's also the type or style of men's underwear which can impact your day-to-day life. Your choice can improve your self-confidence, your performance at work, and it'll make your partner even more attracted to you!
What Type of Underwear is Best for Males?
When shopping for underwear, it is important to know your body type before you can discover the best men's underwear for your body type. Here's a comparison of the 4 underwear types and which body types they suit best:
Men's Underwear Type #1 – Briefs
Compatible with: Thin, Fit & Muscular men
Briefs are the type of underwear everybody knows. It's the antithesis to boxers in every way.
Briefs AKA tighty-whities (though they don't only come in white) as tightness is their specialty. They usually have an elastic waistband and roughly 5 inches of fabric that covers the upper thighs.
The way briefs tightly cover the crotch area creates a distinct Y-shaped front, supporting your genitals well. It can also emphasize your so-called "package."
The downside? Briefs are size-discriminatory. If you've got a good body, a pair of briefs allows you to show off the whole thing except your groin. Even lean guys who have trouble gaining muscle can look good in briefs since they don't accentuate their thinness.
But for bigger men or men with wide hips, briefs may bring more attention to your weight or hip size. They might be comfortable and movement-friendly, but the body can risk stretching them out over time.
Men's Underwear Type #2 – Trunks (Not Swimming Trunks)
Compatible with: Thin, Fit, Muscular & Wide-Hipped men
Men's trunks – boxer briefs with a shorter thigh coverage – are pretty similar to swimming trunks (the ones which aren't the Speedo briefs style or beach shorts). They have a smaller waistband and less fabric.
Trunks are one step above typical boxer briefs in terms of fit. Provided the quality is good, they don't lose their elasticity for an extended period.
But since trunks are smaller and fit closer to the body, they will not complement bigger guys the way boxer briefs do. They still work for men with wide hips, although boxer briefs are preferable.
Men's Underwear Type #3 – Boxer Briefs
Compatible with: All body types
This hybrid style combines the close fit of men's briefs (thanks to Lycra or a unique fiber added to the stretchable fabric) with the shape of men's boxers.
You get the best of both worlds with men's boxer briefs. There's an extra fabric that covers more of the thigh area. The genitals feel very comfortable and well-supported.
Nothing seems too tight, too loose, or exposed overall. That's why it's the most versatile type of underwear in the bunch. When in doubt – be brave with boxer briefs.
Men's Underwear Type #4 – Boxers
Compatible with: Big, Fit & Muscular men
Men's boxers got their design from the loose boxing shorts worn by professional fighters. And what are boxers known to be? Fit and athletic.
Boxing shorts give pro boxers enough comfort and freedom of movement during a fight. They weren't baggy but slightly wider than the wearer's thighs.
Let's not forget that athletes have bigger thighs and legs than the average person (since they do lots of training and running – even inside a boxing ring). So if we look at men's boxers today, they're great for any guy who doesn't have a thin frame or "chicken" legs.
Boxers don't have elasticized leg openings meant to stay close to the skin. That means they can make your lower body appear larger, but that's not a concern for men who are fit or have muscles all over and bigger men in general.
Should Guys Wear Thong Underwear?
Ultimately, that is a question you have to answer for yourself. Thongs are a style of men's underwear that seems to appeal to extraordinarily fit and muscular men.
My recommendation would be that these work well for fit and muscular men, if at all. If you have extra weight, the smallness of a thong will point this out even more.
The bikini is a sunken style of brief that barely manages to cover your behind.
The thong has less fabric than a bikini as your behind is not covered.
To take things to an extreme level, the g-string is the minimalist version of the thong and shows the most skin possible.
Another type of men's underwear that many in the sports world wear are the jockstrap. This undergarment protects your most private parts. Jockstraps consist of a waistband (usually elastic) with a support pouch and two elastic straps that lay under each side of your buttocks. Typically a jockstrap is fitted with a pocket in the pouch to be used for a cup.
Decisions, decisions.
What will you choose? A boxer brief? A thong? Whatever you choose, make sure it is the best men's underwear for your body type.
It's entirely up to you, but hopefully, this article helped you understand a little more about those things we take for granted every day called underwear.
Want to know more about the origins of perhaps a man's most important garment? Click here to discover an in-depth history of men's underwear.
What's next? Find out whether men should wear underwear?