What is a field watch? To understand that – I want you to picture a battlefield at dawn.
The artillery bombardment goes on for precisely eight minutes. Almost before the last round hits, the infantry assault has begun while the cavalry regiment charges the enemy flank nearly simultaneously.
This was what warfare looked like at the turn of the twentieth century.
And it was made possible because of the wristwatch.
You see, in the mid-nineteenth century, only women wore wristwatches. Then some enterprising German officers adapted this ladies' jewelry into a practical, rugged, tool of warfare.
While officers had been coordinating operations with pocket watches for some time, the wristwatch was considerably more practical: smaller, lighter and faster to use.
As the watch's popularity spread throughout the industrialized militaries of the world, certain design features emerged which would come to epitomize the field watch. The style has persisted and the modern man would be well served by adding one to his collection.
This is a guest post from Kevin Mack at Fly High Finance. If you're in the military and want to build a plan for financial independence then sign up here.
What Is a Field Watch?
First and foremost, field watches must be rugged. Traditionally, a good field watch would have a stainless steel case though modern versions may feature PVD coatings or titanium construction.
A field watch must be readable, even under low-light or night conditions. As such, it will have a high-contrast black dial with white numbering.
The polished gold hour markers that are common on more formal watches can be slow to read in the field and can create undesirable glare under sunlight.
The bands on field watches were traditionally canvas or leather, since they could easily be swapped out if damaged. While metal link bracelets would seem to be the most durable, they are easily scratched and more costly to replace.
These design features culminated in WWII when the US Army issued contracts for the A-11 followed in the early 1950s by the A-17 watch patterns. These two designs, manufactured by Waltham, Bulova and Elgin, solidified the look of the field watch, which has perpetuated to this day.
A-11 and A-17 side-by-side.
Most modern field watches take inspiration from these two designs. The major differences being size and movement. The originals were 36mm cases with handwound movements, while the modern versions are in the 38-44mm range and usually feature automatic or quartz movements.
The Field Watch and the Modern Man
The style was immensely popular during and between the world wars and has remained popular ever since. There are field watches available for every budget and so every man should consider adding one to his collection.
So when asking the question 'what is a field watch' – it's nearly impossible not to think of the following men's field watch brands.
Timex
Timex makes a number of field watches in the $30-$60 range. Look for Expedition and Weekender models.
At this price point, the case is going to be finished brass with a mineral glass crystal.
Don't let that deter you though; I know military officers who have been wearing Timex watches in the field for years and they've held up quite well.
This Expedition Scout is a classic example of a field watch and is available in a variety of finishes to suit individual taste.
Wenger
Wenger's Swiss Army line also offers several field watches.
The Terragraph series has an iconic dial with small seconds and the inner-outer, 12-24 hour markings of the A-17.
They are available in Swiss quartz movements with sapphire crystals, a nice surprise in a sub-$100 watch.
The Terragraph has some modern additions to complement the classic style.
It features a date window, which none of the original field watches had and it has been enlarged to a modern 43mm.
Victorinox
Victorinox is the other manufacturer to produce Swiss Army watches.
They typically offer a little more refinement than the Wengers, but with a price tag to match.
Their quartz offerings will run $200-$500 while their automatic models are typically in the $350-$800 range. They have branded all of their field watches under their Infantry collection.
The stainless steel Infantry quartz model is a great example of how a little refinement can allow a field watch to do double duty.
With a ballistic nylon NATO strap you could wear it camping over the weekend, then wear it on a leather strap to the office on Monday.
Hamilton
Hamilton is a really interesting player in the field watch game. They were producing marine chronographs for the Navy during WWII, they didn't make any field watches under government contract until around the Vietnam era.
As the American economy shifted from manufacturing to information, Hamilton was bought out by the Swatch group, a mega-conglomerate including Tissot, Longines, and Omega. While the company was now Swiss-owned, the brand saw a surge in popularity due to savvy movie tie-ins.
Hamilton secured dozens of movie deals in the 1990s and 2000s. You might recognize the retro-futuristic Ventura from Men in Black or the Khaki line of field watches from Michael Bay's Pearl Harbor.
The Hamilton Khaki isn't a reproduction or homage watch, they are modern watches with classic style. With models available from 38 to 44mm they have one to fit every wrist and their use of ETA movements guarantees consistent high quality.
Marathon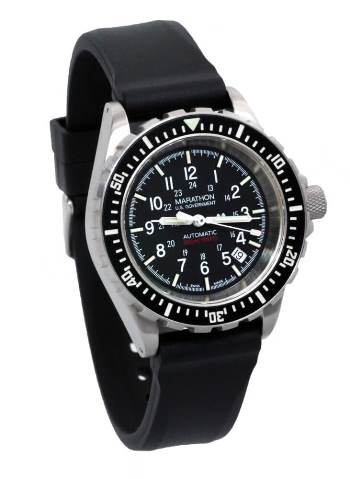 Marathon is one of the only manufacturers producing watches under US military contract today. While best known for their SAR line of dive watches, They have recently issued an updated field watch modeled after the A-17.
Over the years, the A-17 style was built under several different designations. The last of these was the GG-W-113 made for the Air Force in the 1980s.
The Marathon General Purpose Mechanical is the modern reinterpretation of the GG-W-113, it even uses original Benrus movements.
GG-W-117 and Marathon GP side-by-side.
The GP Mechanical is an interesting combination of modern and traditional. The case has been updated and the illumination is provided by tritium gas tubes, but the movement is handwound and the watch is the traditional 36mm in diameter.
The Bottom Line
So what is a field watch?
Field watches are classic, rugged and reliable. The range of features and prices means that any man who desires can add one to his collection.
Stick around for the next article in the series where we will discuss aviation watches.
This is a guest post from Kevin Mack at Fly High Finance. If you're in the military and want to build a plan for financial independence then sign up here.